An Injured Cat Managed To Inspire An Entire Company To Move Mountains To Change Their Packaging
A little orange tabby cat was rescued by a woman named Laura Baker in February of 2021, after she saw that the poor creature had its neck stuck inside something. On closer inspection, it was a plastic ring from some packaging that must have been discarded.
Unfortunately, the kitten must have had the ring stuck for so long that as the kitty grew, the ring began to dig into its neck, causing it major harm. Baker actually runs a rescue agency for young animals called Itty Bitty Kitty City, and she decided to post about the event on Facebook in order to raise funds for the cat's treatment and recovery.
When Baker realized that the ring was from a Munchkin brand "Any Angle Cup," she decided to write to the company to let them know what had happened to the cat. But what she didn't exactly expect was that Munchkin wasn't just respond to the story, but they even offered to give a generous amount of money to help pay for the young cat's medical care. Moreover, they even gave $2,500 to the rescue organization for their other rescue efforts.
But Munchkin wasn't satisfied with just helping out with their cash donation. They decided that they needed to do something more to stop events like this from happening again. The photo of the injured cat was so effective that it moved the Munchkin corporation to implement a corporate revolution that promises to cut plastic use by 645,630 pounds every year.
Chief Brand Officer and Creative Director at Munchkin, Diana Barnes, said, "It was soul crushing to read Laura's [the rescuer] note and look at the photos of that sweet kitten, both personally because I'm a passionate advocate for animals and a pet parent myself of two cats, and professionally."
She added, "We've all seen marine life and animals that are entangled in plastic, but no executive ever wants to imagine their brand is the source of this suffering. Laura asked us for nothing, she simply wanted awareness, she was asking us to do better."
You'd think the story would end there, but in fact, it gets so much better.
According to Ms. Barnes, the cups of Munchkin's product line are truly the "holy grail" of the company. In fact, they had just finished reconfiguration and branding all of the 500 varieties of packaging they needed for their products. However, the photo of little Munchkin the cat, which they lovingly called the tabby, with their packaging that was hurting him was too difficult to bear, so Barnes and her team decided to redo what they had just completed.
After an entire year of new research and development, as well as completing over 250 packaging transit tests, Munchkin managed to develop new and animal-safe packaging for their 478 Munchkin cup SKUs.
The packaging's new design is not only free of plastic, but it even uses e-flute corrugated linerboard that's made from 60-70% recycled materials. This means that if another animal finds itself in a similar situation as little Munchkin did, the packaging would very easily break apart so the animal would be safe and not get stuck.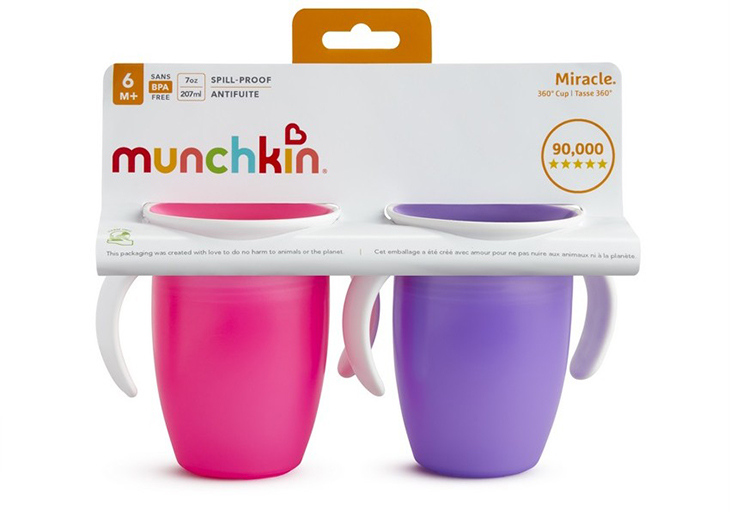 Moreover, as the team was in the middle of the redesign process, Munchkin company decided to incorporate QR codes on every cup packaging, which also directs their consumers to a digital instructional manual. This also allowed the company to remove the additional paper manuals they used to add to the packaging, and as a result, have now saved another 37,728 pounds of paper annually. Just to give a visual for this, if the cup instruction manuals were put end-to-end beside each other, they could span the entire length of California at least 1.5 times.
As for the volunteers from Itty Bitty Kitty City, there were incredibly "overwhelmed" and shocked to find out that this mega conglomerate and nationwide company underwent such a massive change and was willing to spend such a large amount to protect animals and the environment at that. But of course, they were almost certain that it was because of Munchkin the cat's wounded eyes that truly persuaded them to go beyond their duty as product suppliers.
To see more, take a look at the video below to see the story of Munchkin the cat.
What are your thoughts? Please comment below and share this news!
True Activist / Report a typo