Dolphins Make A Splash In The Bronx River First Time In 5 Years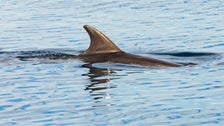 Dolphins are cavorting in the Bronx River of all places for the first time in at least five years, delighting New Yorkers.
They're a hopeful sign that efforts to clean up the river, long plagued by pollution, are having some success, said city officials.
Local authorities also keep the river stocked with fish, which they believe may have lured the dolphins in.
"This is great news — it shows that the decades-long effort to restore the river as a healthy habitat is working," the New York City Department of Parks and Recreation noted in a tweet with a video of the dolphins. "We believe these dolphins naturally found their way to the river in search of fish."
Officials warned spectators not to harass or disturb the dolphins in the section of the river known as Boogie Down, and to give them plenty of space.
Wildlife Conservation Society scientist Howard Rosenbaum said the fish were "common dolphins," and that they appeared healthy and not in any distress.
"We've come a long way across multiple decades of environmental improvement, water quality cleaning, better environmental stewardship, better relations, all of which helps the overall environment and then leads to recovery of these systems," he told the Gothamist.
"It's just great that these things are happening," Rosenbaum added. " Hopefully, the overall environmental recovery for these urban waterways continues, and we continue to see marine wildlife — their habitats, their prey — flourish."