Dwayne Johnson Decided To Surprise 'Real-Life Hero' By Bringing Him On GMA To Honor Him For His Charity Work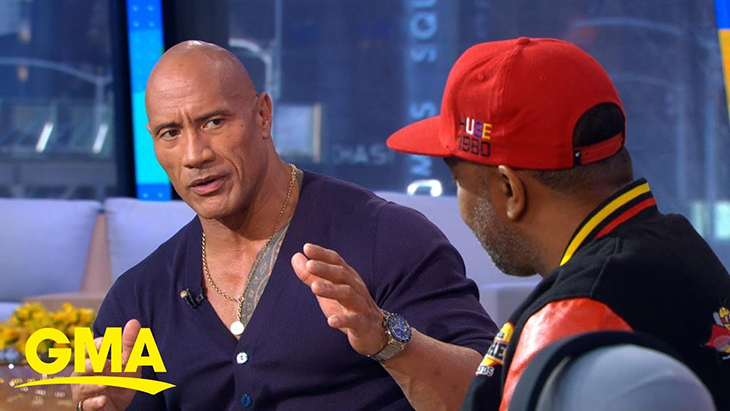 Dwayne "The Rock" Johnson isn't a stranger to surprising people, but for one particular charity worker, Yuri Williams, he was going to be gifted with something he would have never thought possible.
He was given an opportunity to meet the former WWE wrestler, and while that was already a once-in-a-lifetime moment, Williams was going to get so much more than just a handshake from the "Black Adam" star.
The movie "Black Adam" was about to hit the big screen and The Rock decided to surprise Williams on live TV, bringing him back to the Good Morning America studio to provide him with special tickets to the premiere. This was all to bring awareness to Williams' charity work, as well as provide him with a new superhero suit for Williams to add to his costume collection.
While Williams plays the role of a charity worker every day, he also plays the role of a number of superheroes like Spiderman, The Mandalorian, Deadpool and more. His choice to wear these costumes is to bring joy to those in need, regardless of whether they're sick children, homeless people, veterans, or the elderly.
According to a report in Good News Network, Williams' charity is called A Future Superhero and Friends, which aims to organize blood drives, toy drives, youth art fairs, provide school supply giveaways, and much more. And moreover, they've done this in all the 50 states of the country. Although a lot of the charity work he does consists of visiting children with special needs or those who suffer from serious illnesses.
According to Katrina Morgan, whose son has a cleft lip, said, "Yuri's literally like the first person to put a smile on A.J.'s face."
In a report by ABC News, another mom, Marina Moore, spoke about the way Williams has helped a number of parents and kids. She told Good Morning America, "It's the things that Yuri is doing that a lot of these kids are going to remember for your life."
She added, "When we opened up that door, that great big man standing there with his Mandalorian, the kids were just ecstatic, especially these little guys. Super, super excited."
Another mom, Katrina Morris, also told GMA that Williams helped her son during his cancer journey.
She explained, "With all the stuff that happened with AJ, he came around Christmas and surprised him with gifts he wanted. I will never forget that day."
Williams also talked about the way he feels touched by all the families and young kids he's helped. He said, "It's just like a superhero power energy that I feel from them. You know, me going into these homes knowing that this child might not be able to see Christmas, that minute or a couple of minutes that I'm there, I just want to make it a special moment for them."
Williams explains that his charity was birthed from his own struggles with depression after the passing of his own mother from cancer back in 2009. That's when he decided that one positive way to get through and recover from the loss of his mom was 'to channel his pain into relieving others.'
During the Good Morning America segment, The Rock told Williams, "We've never met until now, but I'm really so proud of you brother and the work that you do because I always like to say, this kind of stuff you're doing, that's the best part of fame."
The Rock has had an amazing rise to fame as Hollywood's highest paid actor, mostly due to his infectious and boisterous personality. Sometimes, that infectious joy includes giving big hugs or surprise gifts to a fan or a hero, like Williams.
Back in January, The Rock also surprised another fan, who happened to be a Navy Veteran, by giving him the keys to one of his very own pickup trucks. And it probably won't be the last time that Johnson does this for someone deserving.
What are your thoughts? Please comment below and share this news!
True Activist / Report a typo