Photos Show Extreme Winter Weather Battering The U.S.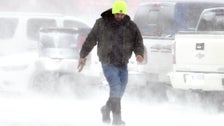 Bone-chilling temperatures, blankets of snow and powerful stormwaters have descended on much of the United States, adding to the chaos of one of the busiest travel weeks of the year.
Few places in the U.S. have been spared by the harsh winter weather, which has spanned from coast to coast and includes white-out blizzard conditions throughout the Midwest, powerful storm surges in the Northeast, massive power outages in Texas and staggering temperature drops in the Mountain West.
On Friday, about 60% of the U.S. was under a winter weather advisory or warning, and at least 10,000 flights had been canceled or delayed, forcing many to ditch holiday plans.
Take a look at the effect the wet and icy weather has had across the country.